Classic Cottage Beadboard 4 foot Finish Kit
Classic Cottage Beadboard 4 foot Finish Kit
| Total Quantity | Base price per unit |
| --- | --- |
Discounts will appear in cart
Total quantity of 4x8 paneling in cart determines price per panel.
List price reflects purchase of at least 15 units.

Product Description
The Classic Cottage style combines two of our most popular designs into one beautiful panel system. The simple design elements of the Classic American flat panels are now combined with the crisp rounded double bead design of Classic Beadboard in our two-tiered wainscot system. The result is a refined casual design inspired by the architectural styles from the late 17th to the early 20th centuries.
This 4-foot "finishing" kit has been made available for customers purchasing our 8-foot kits that need some additional length, but don't need an entire 8-foot kit. The 4-foot kit integrates perfectly with our 8-foot kits, and the system includes beadboard Panel Sets in either 23" or 31" heights used at the bottom, combined with 12"x12" flat PanelSets and corresponding stiles for the top. To complete the design, a 48" length of shoe molding, base rail, intermediate rail, top rail and top cap are included. The completed installation will be close to either a very dramatic 48" or 56" in overall height with our standard kits. Other heights are available per custom order request.
TO SELECT THE PROPER SIZE FOR THE 4 FOOT KIT GO TO NEW ENGLAND CLASSIC.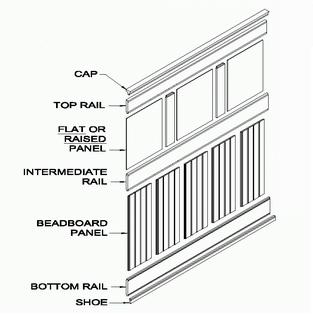 Classic Cottage is manufactured using select grade-A veneer, oak, maple or cherry, laminated to a stable engineered wood core. If you want the finished installation to be painted our primed paintable option is the way to go. Classic Cottage is available ready-to-finish or factory-finished in white paint or several standard stain colors. Or for an up-charge, we will match the stain color you specify.
Classic Cottage wainscoting systems combine two of the most widely used styles---raised and/or flat panels with beadboard to create a truly impressive enhancement of any room. Normally, only one 4-foot kit is purchased, to give a customer a little more length to finish a job that doesn't need an entire additional 8-foot kit.
Applications
The combination of the more formal panels and the less formal beadboard renders Classic Cottage appropriate for any room in the home. However, specific room suggestions would include less formal gathering areas like kitchens, entry ways, guest bedrooms and family rooms.
The 4-foot and 8-foot Classic Cottage kits are standard sizes, and therefore, we do not need a Design Request Form for these. You may submit one if you like.
Wainscoting Design Request Form for walls.
Design Request Form for stairs and landings.
Warranty Information
5-Year Limited Warranty

NEC Wainscot Panel System products are warranted to be free of material defects that might unreasonably affect their performance under normal conditions, when installed, finished and maintained in accordance with the manufacturer's suggested applications for a period of 5 years from purchase.

This warranty covers NEC Wainscot Panel System products purchased for intended use only, and is not applicable to other uses of the products.

This warranty does not cover the following product problems, damage or failures: relating to factory or field applied finishes; moisture or corrosive environmental conditions; in the absence of reasonable and regular maintenance appropriate for the conditions in which the product is located; due to abuse or misuse; or caused by acts of God. This warranty does not cover consequential damages, including, without limitation, the cost of repairing or replacing property damaged as a result of product failure. New England Classic products are made with premium woods and wood veneers and will have natural variations in grain, color, and texture which are the essence of the woods' beauty and romantic appeal. These normal variations are not defects and will not be considered defects under this limited warranty.

NEC will repair or furnish replacement components found to be defective, or may at its sole option, refund the original purchase price of the defective product. The original proof of purchase sales receipt must establish that the product was NEC product.

Labor to remove, install, or transport a component or product, is not included under this warranty. Shipping and transport costs associated with the replacement product are not covered by this warranty.

The product must be returned to NEC after authorization by NEC and is shipped at shipper's risk and insurance during transit.

This warranty is not transferable and is limited to the original purchaser.

The purchaser must notify NEC of all warranty claims promptly upon discovery of any defects or failures of the product and prior to the expiration of the applicable warranty period.
Product Reviews
This product hasn't received any reviews yet. Be the first to review this product!