New England Classic Factory Finish Information
New England Classic Factory Finish Information
---
New England Classic by Mantelcraft factory finishes make it even easier to install perfect wood paneling every time.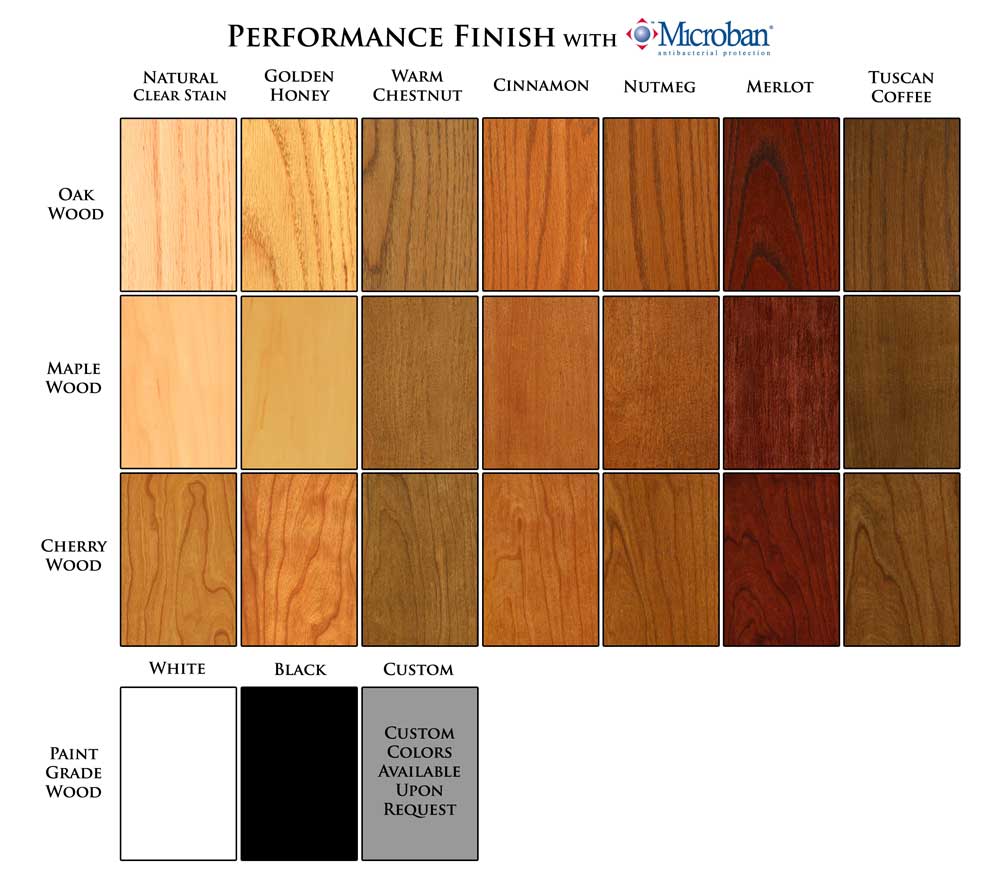 You can choose from four wood species and any of our Performance Finishes featuring Microban© for your New England Classic paneling and components. For an additonal charge we will match nearly any color paint or stain you desire.
Our finishing process is similar to that of fine furniture. It includes sanding and a pre-cat lacquer for a very hard, professional finish. Specifications Factory-finished panels and components speed installation time making New England Classic an even more cost-effective solution, and at the same time, producing a superior end product that will bring the warmth and beauty of real wood panels to any home or office. Microban© antimicrobial will help keep your product clean and fresh longer, and adds to the durability of our finishes!

Samples of our woods and finishes are available. Use our Contact Us form to order samples. Give us the wood species, finish color and your street address.

Note: Colors may be not be rendered accurately due to varying monitor and system settings. We will send a color sample for approval if you request it!
Since wood veneer is a natural material, normal variations in wood grain and character marks may accept stain differently, resulting in natural color and fill variations. It is these variations that contribute to a wood species' natural beauty and warmth. Our stain color chart, finishes chart are good representations, but every monitor shows colors differently and this is only a representation of our stain color offerings.

Finishing and Maintenance
Unfinished Oak, Maple and Cherry
Fill all nail holes and splices with matching stainable wood filler. Avoid getting filler on the surface around the hole. Sand wood filler patches smooth to the veneer surface with 180-grit paper, taking care not to sand through the veneer. Apply stain, sealer and clear finish coat, lightly sanding between coats with 220-grit paper.
We recommend applying a light coat of lemon oil or furniture oil to replenish the natural sheen, especially in dry environments. use of wax polish may cause buildup and dull the finish sheen.
Factory Finished Oak, Maple and Cherry
Use touch-up materials included to conceal fastener holes.
Paintable Surfaces
Prior to installation, prime any surface to be painted that is not factory-primed, then sand with 180-grit paper. (NOTE: DO NOT SAND BEADBOARD PANELS!) It is not necessary to prime stiles, rails, shoe, cap or casing.
After installation, apply one coat of paint to panels, than after it dries thoroughly sand with 220-grit paper. DO NOT SAND STILES, RAILS, SHOE, CAP or CASING and DO NOT SAND BEADBOARD PANELS.

Fill all nail holes with a paintable vinyl-based spackle. Finish coat all parts together. Gentle household cleaners may be used, if required.